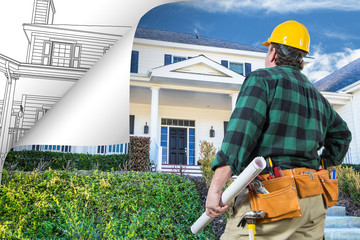 A custom home builder specializes in custom homes and can complete this type of project from start to finish. Custom house builders often collaborate with general contractors to assist in the construction of a customer's perfect residential property.
Choosing the appropriate constructor can frequently mean the difference between success and failure on a project. If you do it correctly, the construction process should go reasonably smoothly. You risk spiraling costs, delayed completion date, and substandard finish if you get it wrong.
The optimal time to select a builder is before engaging an architect or soon after. By involving a builder early in the design phase, you can ensure that the design of your home and your desired budget remain consistent throughout the process.
It is always good to begin your search by asking trusted friends, family, neighbors, and real estate experts for excellent referrals to custom builders. There is a good chance someone you know has heard of a custom builder or two. In the worst-case scenario, they may help you establish a list of builders to avoid, which is invaluable.
If the builder lacks sufficient information, they may walk away before bidding or tell you what you want to hear, but the reality may differ. If you do not ask questions, you will not know how the builder works, let alone how to utilize his expertise while maintaining control of the project. Therefore, compile a complete list of questions, decide on three to four builders from your shortlist, and ask them all the questions.
Once you have narrowed down your list of potential builders, contact their former clients. Try not to settle for a few satisfied clients. Instead, compile a longer list and call them randomly. Inquire about their willingness to work with the builder again, any changes they would make to the process, and anything you should be on the lookout for. Determine how the builder involved them in critical decisions such as attic venting or soundproofing the great room.
Each builder has a technique for constructing a home. Ascertain that you define and describe the method clearly to you. Then include specifics about that process in the contract. Make sure the contract specifies the construction plans. It should consist of the agreed-upon purchase price and cost of adjustments. Additionally, it should include project drawings and schedules and a full list of all products utilized to construct the home, down to the finish of hardware.
One critical contract issue is how final inspections are to be conducted. They can be a significant source of contention. The builder is anxious to complete the house, and you are eager to move in. The ideal situation occurs when you and the builder jointly conduct an inspection and agree on a detailed list with a deadline. The builder will coordinate several subcontractors to ensure that everything is fixed to your satisfaction.
A good builder also provides a good post-occupation service. Sometimes new homeowners need help maintaining their homes but do not get it. Fly-by-night builders typically do this, who do not give sufficient after-sales service.